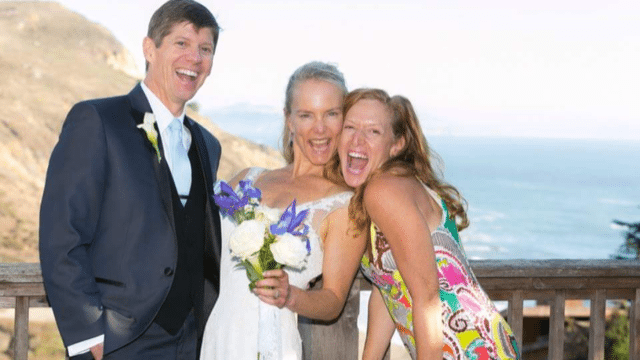 "I have wedding envy!' one of our guests laughingly said as she left the rustic beachside building that Bekka had magically transformed into a communal ark, transporting two of every kind of family together on a six-hour voyage of love.
"Best wedding ever," dozens more of our guests have remarked many times since. And while it's true that we shared our wedding with an extraordinary group of people who would have made any event special, Bekka's leadership and organizational wizardry made the celebration memorable not just for us, but for every one of the 104 people who she enticed into co-creating something extraordinary.
Building on the "community" theme we wanted, Bekka crafted a setting tight enough to bring us all together, but loose enough to encourage everyone to feel included by bringing a cake, sharing a poem, hanging decorations, making a video, or just bonding with someone new.
Drawing on boundless supplies of amazing organizational skills, joy, good humor, flexibility, resourcefulness, energy, and compassion, Bekka kept everything and everyone moving forward, but without the slightest sense of strain or control.
Plus, we were so confident (rightly) in Bekka's ability that neither of us had to think about a single detail. Everything went so smoothly that she found time to photo-bomb one of our wedding pictures and get even more people out on the dance floor.
From the bride: "I was so appreciative of our fun, inspiring planning sessions because initially, I felt overwhelmed by the level of detail. Bekka magically took care of all of those. It was the perfect wedding and the perfect planning."
From the groom: "We can't say enough good things about Bekka and her ability to create magic. She helped make our wedding not only memorable for everyone but memorable for how beautifully it unfolded."