Bekka Fink, Member of AEA (Actor's Equity Association)
View Bekka's Performing Resume and SF Casting Profile.
Based in the San Francisco Bay Area, Bekka is also available to travel Nationally and Internationally.
To book Bekka Fink for television, talk show, or personal appearances, please contact JE Talent.
What part of your life would you rewrite for love? A screenplay, a love story, a secret, a terrorist and a hero, zombie strippers and maybe, time travel ... all collide in this comic romance starring JP Allen, Bekka Fink, Chris Pflueger, Lucia Frangione, Joseph Estlack, Michelle Drexler, Sally Clawson, Ashley Rain Turner and Jason Wolos. Written and directed by JP Allen, cinematography by Daniel Teixeira-Gomes, produced by Cathy Montosa, with music by John Dole, Rossana Schneider, Martin Watkinson/Cherita Meadows, and Cello Joe. A Coffee and Language Film. 85 minutes, color, 16:9, NR. For more info see www.coffeeandlanguage.com
COOKIE WARS (2013) from SF Film Workshop on Vimeo.
A FESTIVAL FILM: Mill Valley Film Festival, Tower of Youth, Sacramento, International Student Film Festival, Hollywood, Cine/Youth, Chicago, Harvard - Westlake Festival, Hollywood, Nashville Film Festival, San Francisco Film Festival and the Los Angeles Film Festival. BEST WRITING - South Bay Student Video Festival.

An ambitious mother (Bekka Fink) has hired a ringer (Roxanna Tabatabai) to help her sell Girl Scout cookies while her real daughter (Miranda Autum Lewis) has plans of her own. The battle is on!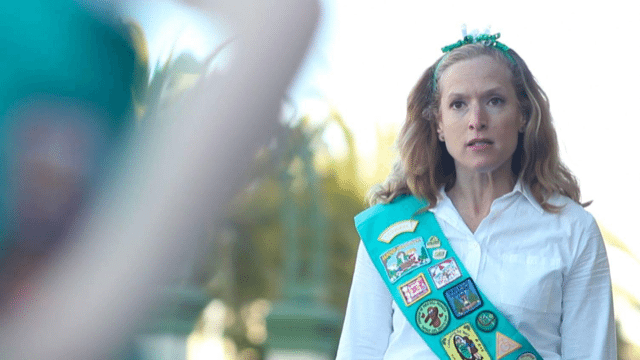 TRAUMA -- 'Masquerade' Episode 105 (2009)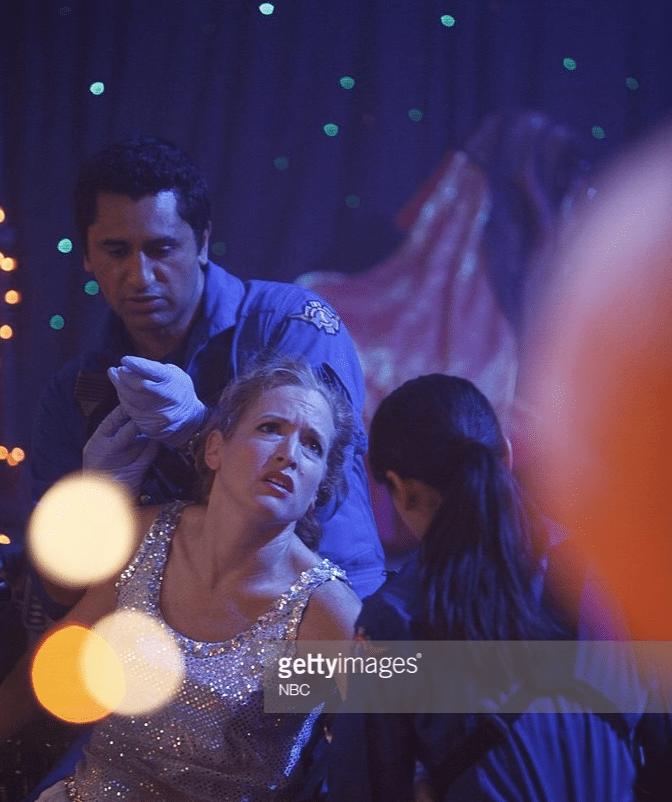 Pictured: (l-r) Cliff Curtis as Reuben 'Rabbit' Palchuck, Bekka Fink as the patient, Aimee Garcia as Marisa Benez -- Photo by: Trae Patton/NBCU Photo Bank
Youthful Gold for Anti-Aging Infomercial (2013)
Click sections to expand & read reviews.
"Bekka Fink's Judith is equal parts adorable and terrifying as a gun-crazy little girl"
- Lisa Drostova, East Bay Express
---
"...lights up the park as a member of the fundamentalist family in an energetic, rousing hymn, Gods Little Warriors..."
- Robert Hurwitt, San Francisco Chronicle
"The chorus harmonizes well, Fink stands out for her range and nice gravely, forbidding effect."
- Lisa Drostova, East Bay Express
---
"The 3-woman chorus sings Seavers' harmonies beautifully as they attempt to interject some lovey-dovey sentiments into Medea's nightmarish spiral...with their blue lips and highly floral outfits, they are good for some laughs and some serious music."
- Chad Jones, Oakland Tribune
"Impressive as Cinderella's stepsisters...Rebecca Fink...whose grimaces and bodily expressiveness wonderfully compliment her shrieky cackling."
- C.J. Gianakaris, Kalamazoo, Michigan Gazette
---
"Rebecca Fink and Lisa Adams, as Cinderella's wicked stepsisters were at their biting, bitter, bovinish best in Stepsisters lament...and A Lovely Night bubbled with fancy, comedy, and harmony."
- Leslie Myers, The Jackson Mississippi Clarion-Ledger
---
"The master comic touch is provided by Cinderella's evil stepsisters, featuring...Rebecca Fink...in a delightful, over-the-top performance."
Gary A. Panetta, Peoria, Illinois Journal Star
"Rebecca Fink as Johanna, filled the theater with her arresting voice and a charming, blond-ringletted naivete."
- Suzanne M. Connelly, Syracuse, New York
"Rebecca Fink plays all the women's roles, inlcuding the Voice of God, packing an emotional wallop into every role."
- Irene Backalernick, The National Jewish Post and Opinion
---
"Rebecca Fink, whose voice has a pop edge, is most versatile. She switches gracefully from Moses' elderly mother in one scene to a girlish Zipporah in the next."
- Aileen Jacobson, New York Newsday
"Bursting with teen attitude, she shines in her musical moments."
- Robert Hurwitt, San Francisco Examiner
---
"Rebecca Fink is excellent as the misunderstood, dissatisfied daughter, Ruth. Her comic style is natural and her performance pure fun to watch."
- Colleen Krueger, Palo Alto Metro
"A stellar performance...Rebecca Fink, in the role of Diana Steed."
- Joe Papaso, Palo Alto Weekly
---
"Rebecca Fink fills the stage with beautiful singing in the role of Diana Steed."
- Janice Riese, Peninsula Times Tribune
"Rebecca Fink plays the girl with a sweet malice and a pretty soprano."
- Peter Haugen, The Sacramento Bee
---
"Rebecca Fink fills the stage with beautiful singing in the role of Diana Steed."
- Janice Riese, Peninsula Times Tribune